Have the Perfect Day Kiteboarding on Oahu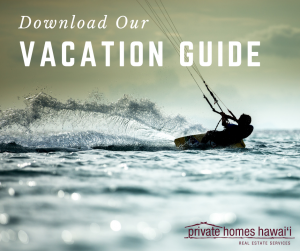 If you're more the adventurous type, you have to trykiteboarding on Oahu! Cut through gigantic waves in the Pacific with the wind in your hair and a large kite that harnesses the power of the wind to propel you through the water. It's one of the most thrilling watersports adventures you can experience on the islands of Hawaii. The breathtaking scenes of the cerulean blue ocean, towering cliffs, and sandy white beaches make for an ideal backdrop. While the sun beams from overhead, a tropical breeze blows through the tops of palm trees and makes its way to carry your kiteboard across the water. For more great suggestions on where to go and what to do, check out our free Vacation Guide.
How to Have the Best Time Kiteboarding on Oahu
Get Your Feet Wet
Windward Watersports
In Kailua, check out Windward Watersports for kiteboarding lessons. The lessons range from beginner's courses to advanced techniques! Experts teach using a 2-way radio that allows for you to learn on the water. It's a great way to get your feet wet if you're nervous about diving in!
Sammy's Aloha Watersports
Sammy's Aloha Watersports is another great suggestion for those looking to take lessons with an experienced kiteboarder. Hawaii is the perfect locale to learn a new watersport! They work with people of all ages.
Honolulu Kite School
Take lessons at the Honolulu Kite School! While you're out on the water, feel safe knowing there's an escort boat nearby! They even take you to a "semi-secret" location to learn that is only accessible by boat.
Rent or Buy Your Own Equipment
Hawaiian Watersports
Buy or rent kiteboarding gear from Hawaiian Watersports! You can find the shop in Kailua. The helpful staff will get you all set up for fun Oahu excursion in the sun and on the water.
Naish Hawaii Ltd.
Another great shop in Kailua, Naish Hawaii Ltd. sells kites, control systems and a variety of boards. Get the best gear and make sure to add kiteboarding to your Oahu itinerary.
Where to Catch the Best Waves
Oahu is home to some of the most beautiful beaches in the world. With Diamond Head in the background, cut through the water and fly through the air. It's a thrilling experience and one of the best things to do on Oahu. You don't want to miss out! Check out these kiteboarding spots on Oahu:
Kailua Beach Park
Mokuleia Beach Park
Sunset Beach
Waikiki Beach
Flat Island
Home Sweet Home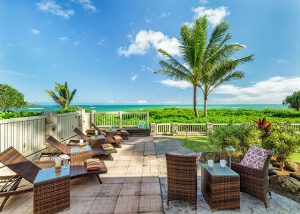 Between outdoor adventures like kiteboarding in Oahu and attending all the exciting events on the island, you'll need the perfect place to call home. Private Homes Hawaii boasts an incredible selection of vacation rentals that help make all your Hawaii vacation dreams to come true. Stay in our Place and Paradise property and enjoy the luxury of oceanfront views. This home sits on Kailua Beach, which is considered the best place for kiteboarding on the island! You'll also have access to an array of watersports like kayaking, stand-up paddle boarding, and plenty of activities for kids!
TVU: #90/TVU-0248
What are you waiting for?