Father's Day in Hawaiʻi can be one of the most extreme adventure vacations if you plan and scope out your options. Hawaiʻi has many activities that will get your blood pumping.
If you want to give your husband or father the trip of a lifetime, plan a seven-day extreme adventure vacation in Hawaiʻi. In this blog, we'll explore some of the most exciting activities and things to do in Hawaiʻi, from waterfall rappelling and ziplining to shark diving and skydiving; this itinerary is filled with fun all week long. And you'll never be the same again after this trip!
And if you're looking for other things to do on your Father's Day vacation, download our free Vacation Guide, where you can access a list of delicious restaurants, exciting attractions, and things to do in Hawaiʻi.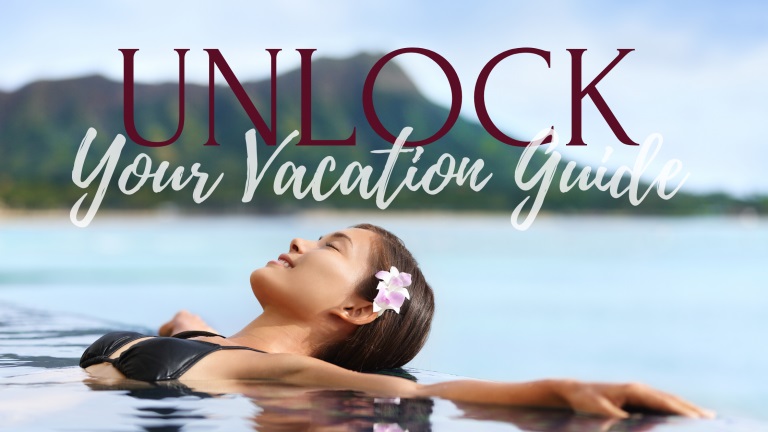 7 Thrill-packed Days for Father's Day in Hawaiʻi
Day 1 – Arrive, Prepare, and Relax
Arrive on the Big Island and check into your accommodations or vacation rental. Spend some time relaxing and getting settled on the island. Grab some groceries and stock your kitchen for the week. And then head to a local beach and enjoy swimming and sunbathing. Have dinner at one of the island's many excellent seafood restaurants, like Honu's on the Beach, a buffet of prime rib and seafood bliss you must try.
Day 2 – ATVs, Waterfalls, and Waterfall Rappelling
Take a tour on an ATV, where you will ride over 5.5 miles of off-road trails with fantastic ocean views and terrain. It's a perfect family or couple activity that takes you to a waterfall, where you'll take a break, eat a snack, and swim. It's great for all skill levels and offers the perfect way to start your extreme adventure in Hawaiʻi! To book tickets for this tour, check out Umauma ATV Waterfall and Swim Experience.
Next, catch some delectable Hawaiian cuisine at Poke-N-Sides, a local-style eatery that offers Poke made with fresh 100% Hawaiian ahi. Their casual environment and delicious menu make it a perfect stop after being on an ATV.
Also, in Hilo, you can get your adrenaline-pumping waterfall rappelling, where you will team up with expert guides and rappel 120 feet down Kulaniapia Falls! Expect to get wet, but also have a lot of fun!
Day 3 – Shark Diving and Speed Boats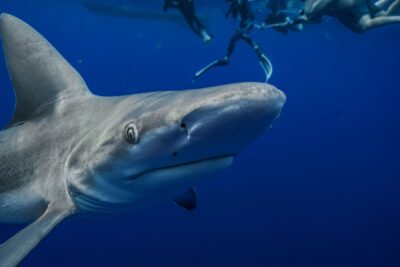 Spend your third day diving with the sharks during the day and snorkeling with the Manta Rays at night. If your adrenaline isn't pumping after today, you might want to check your pulse! Kona Shark Diving takes you out to swim with the sharks three miles offshore, where the sharks hang out. You can see many species of sharks, and they're always there to greet you. Don't worry. No experience is necessary. Their experts will guide you the entire way.
After you've taken a pause, it's time for some nighttime fun with a Night Snorkel on a Navy Speed Boat tour. This tour boasts max adrenaline on a fast-moving boat similar to what the Navy SEALs use. You will speed across the ocean hitting waves that could knock you out of the boat if you don't hold on! After the rush of excitement, it's time to swim with the Manta Rays at night. Hang on to a floating light board and be prepared to witness some of Hawaiʻi's most majestic marine animals. Don't forget your waterproof video camera!
Day 4 – Zipline Over a Waterfall and Whale Watching
This two-and-a-half-hour adventure will take you across a 7-line zipline experience, one of Hawaiʻi's longest lines. You'll start slow and eventually work your way up to longer and faster zip lines. Eventually, you will cross over a 250-foot waterfall! The Big Island Zipline Over KoleKole Falls will be a story to tell your kids unless you take them with you! Be sure to check the restrictions before buying tickets.
After all the zipline excitement, whale watching is an excellent activity for the afternoon and evening. It is not quite as adrenaline-pumping as ziplining, but taking a break is nice. This experience lets you see some of the most magnificent creatures on earth. Enjoy a comfortable ride on a super raft, a meal, and several hours out watching for whales.
Day 5 – Island Hop to Maui for Father's Day in Hawaiʻi
While not technically an adrenaline-pumping experience like ziplining over a 250 waterfall, island hopping can be exciting. This roundtrip Pearl Harbor excursion takes you to Maui to see attractions like Pearl Harbor, the Polynesian Culture Center, the Byodo-in Japanese Temple, and various other places, including lunch. It is a 14-hour trip that gives you a taste of Maui's most popular attractions and beaches and will have you back to the Big Island for a late dinner.
Day 6 – Skydiving the Big Island for Father's Day in Hawaiʻi
If you want to see the most beautiful skydiving in the world, Sky Dive Big will take you there. Arguably, for some, this might be the most adrenaline-pumping option yet, and possibly only for pure adrenaline junkies! Whether you've never skydived at all or you've been 100 times, Hawaiʻi is the most breathtaking place to jump. Sky Dive Big will take you up 12,000 ft. at the top of the world and drop you over Seven Sacred Valleys, the Kohala Coast, and dozens of waterfalls. This tandem jump is with highly trained and skilled skydiving instructors, so all experience levels are welcome.
After this experience, you may want to find a fantastic beach to hang out on and absorb how amazing it is to skydive in Hawaiʻi. Or grab lunch at a delicious restaurant like Bamboo Restaurant & Bar, where you can find salads and entrées like Herb Grilled Chicken or Thai Coconut Curry. And then do a little exploring of the beautiful area!
Day 7 – Departure
Depending on your departure plans, you might have time to do some last-minute souvenir shopping or sightseeing on your last day in Hawaiʻi. Or some time to hang out on one of the beaches like Honl's Beach or Kamakahonu Beach.
No matter what you decide to do, even just trying some of these adrenaline-pumping activities will make your Father's Day in Hawaiʻi very exciting and memorable. You will have memories of a lifetime and feel like a different person with such incredible experiences in Hawaiʻi.
Pick the Best Place to Stay for a Father's Day in Hawaiʻi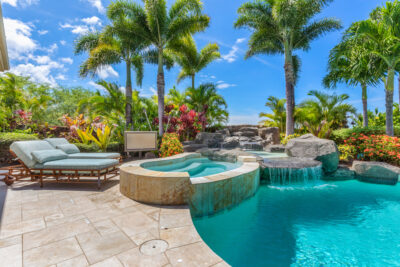 And if you're looking for a fantastic place to stay while you're here, we have gorgeous properties on Oʻahu and the Big Island we know you'll love.
We offer incredible views, convenient locations, and excellent amenities. Check our listings because some properties give you access to perks, like the Four Seasons Hotel, where you can enjoy even more amenities!
Unlike renting a hotel room, our properties are stylish, spacious, unique, and private! You can make your vacation feel like home with a fully equipped kitchen and homemade meals. Have a quiet dinner in privacy and relax comfortably after a full day of exploring Hawaiʻi. Our properties are close to markets and shops, so it's easy to grab anything you need and feel right at home on vacation!
Browse our available properties and book a reservation today.