Are you looking for ideas for the ultimate girl's trip to Hawaii? We have the perfect itinerary for your vacation to Oahu or the Big Island. Check out the many exciting things to do, like hiking volcanos and seeing the sunrise. Or go under the ocean's surface to see marine life up close! Check out Farmer's Markets and fine shops or hang out on the beach. Keep reading to get fantastic ideas for an unforgettable vacation with your girlfriends!
And if you're looking for other ideas or want a great resource for your vacation planning, download our free Vacation Guide, where you can get all the best restaurants, attractions, and things to do in Hawaii. We curated our best recommendations to make planning easy for you!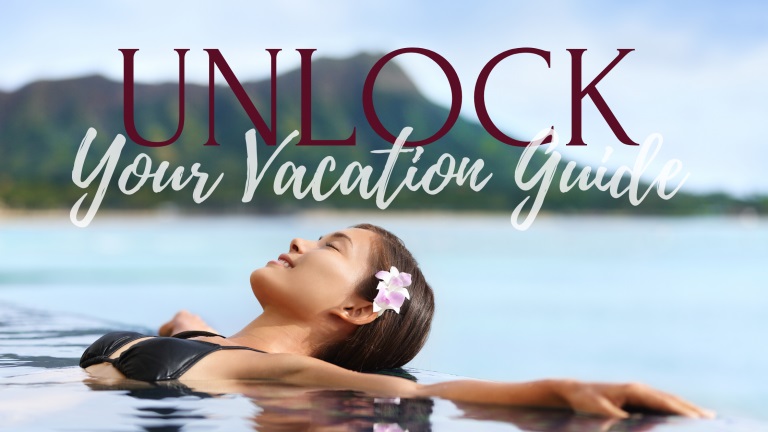 5 Days of Adventure on Your Girl's Trip to Hawaii!
Day 1 
Spend the Day Doing Outdoor Activities
Hawaii has so many outdoor activities that you could spend the entire week doing just that. Here are a few exciting ones to get you started. You can visit the volcanoes of Hawaii Volcanoes National Park on the Big Island. Take a snorkeling trip, dive with the sharks, or soak up the sun on gorgeous Hawaiian beaches.
Take a zipline adventure or hike through the rainforest on the Big Island. Try a sunrise tour to the volcanoes on The Big Island or journey under the sea on a Waikiki Atlantis Submarine Adventure on Oahu.
Day 2 
Check Out the Nightlife on Your Girl's Trip to Hawaii
Try some of the best places to eat on the Big Island, like Gertrude's for a night of live music and dancing! Or try Huggo's on the Rocks for live music and hula!
Similarly, check out Oahu nightlife, where you can enjoy places like Duke's Waikiki or Rumfire. Or set out on the ocean for a Waikiki Sunset Cocktail Cruise where you can enjoy a cocktail while watching the sun disappear over the horizon.
Day 3
Luxuriate at Spas and Enjoy Shopping
Try the Four Seasons Spa on the Big Island, get a massage or a facial, then head over to Kona International Market, where you can browse boutiques, art, and island craft stores, and grab lunch at the food court.
If you feel like taking a scenic drive, try Kohala Grown Market, where you can grab lunch at their deli and explore unique all-natural products. Or go to Farmers Markets found all over the Big Island to get produce and see local artisan handmade crafts. If you want upscale shopping places, try Kuhio Plaza for a mall-like experience, and on the Hilo side of the Big Island, the Kings' Shops will not disappoint!
If you're on Oahu, try the Ala Moana shopping center for a mix of local businesses and chain stores. They have restaurants, and even daily hula shows! Or there is the Waikiki Beach Walk, where you can check out boutiques, weekly activities, live performances, cafes, and restaurants.
Day 4
Emerge Yourself in Cultural Centers and Activities
Visit the Polynesian Cultural Center on Oahu to watch a hula or fire dancing show or participate in a traditional Hawaiian luau. Or you can go to the Island Breeze Luau on the Big Island instead.
Both islands offer traditional Hawaiian canoe rides if you want to get out on the water. Visit an ancient Hawaiian temple like Pu'ukohola Heiau on the Big Island and learn about the history of the Hawaiian Kingdom and culture.
Day 5
Visit Gardens, Temples, and Artisans on your Girl's Trip to Hawaii
On the Big Island, you can visit the Hawaii Tropical Botanic Gardens, where you can explore 40 acres of rainforest, and see wildlife. These stunning gardens have 2000 types of plants, flowers, and vegetation.
Also, if you're planning to go to Oahu, you can check out the Japanese temple Byodo-In, built to commemorate the first Japanese immigrants who settled in Hawaii 100 years ago. If you want more things to do, you can take a lei-making workshop or hula lessons to learn Hawaiian culture through making art or learning dance.
Hawaii has so much to do that you always have fun and many ideas to keep you busy. Even if you wing it, you'll find many interesting things to learn about and enjoy exciting adventures. With its year-round moderate temperatures, you can come any time of year with your girlfriends. It's a perfect place to return to year after year and make it a bonding tradition with all your besties!
Stay in Luxury on the Big Island or Oahu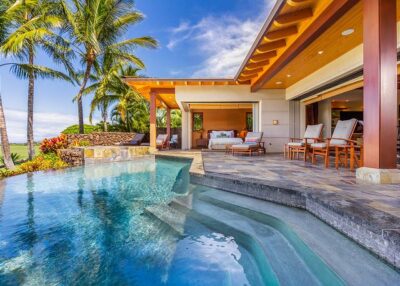 And if you're looking for a fantastic place to stay while you're here, we have gorgeous properties on Oahu and the Big Island we know you'll love. We offer incredible views, convenient locations, and excellent amenities. Check our listings because some properties give you access to perks, like the Four Seasons Hotel, where you can enjoy even more amenities!
Unlike renting a hotel room, our homes are stylish, spacious, unique, and private! With a fully equipped kitchen, you and your friends can enjoy making a traditional Hawaiian meal together. Our properties are close to markets and shops, so it's easy to grab anything you need and feel at home on vacation!
Browse our available properties and book a reservation today.