Top 3 Things to Do on Oahu With Toddlers
Hawaii is a dream destination for many people who love to travel, and for good reason. The landscape of the islands of Hawaii are like nothing you've ever seen before. Lucious jungle mountains, crystal clear ocean waters, and black sand beaches are all common aspects of Hawaii. Oahu is one of the islands frequented by visitors because it features some of the most popular beaches, including Lanikai and Kailua beach. You can also experience the city life of Waikiki while visiting Oahu. However, traveling with little ones can limit the type of activities you can do. Not to worry, we've compiled a list of our favorite things to do on Oahu with toddlers to ensure you and your kids have the best time.
As you begin planning your trip to Hawaii, be sure to request a complimentary copy of our Vacation Guide. Inside, you'll discover local recommendations on all the best aspects of the Hawaiian islands. Find out where to dine, shop, and explore.
Our Favorite Things to Do on Oahu With Toddlers
Swim with Dolphins
The unique ecosystem of the Hawaiian islands means that there is an abundance of beautiful and unusual marine life. If you're visiting any of the islands, you should definitely plan to experience some of the islands' water habitat. If you're traveling with young ones, there are few better ways to help them discover the island's sea life then by swimming with dolphins. One of the most popular places for this is at Dolphin Quest. You can choose from a variety of experiences to get exactly what you're looking for. The Wee Family, Fins, and Fun package is designed for children between the ages of zero and four. This experience allows your child to stay outside the water while still petting and interacting with dolphins. You can also opt for a number of other packages designed for all ages. These experiences allow you and your family to get into the water together and have a more close-up encounter with these beautiful animals.
Attend a Luau
An important part of Hawaiian culture, the luau is a wonderful way to spend an evening on Oahu with the family. You'll discover a number of luau venues across the island including Tao Luau. During the luau, you'll dine on slow-roasted pork and traditional coconut pudding before settling around the fire to learn more about the island's unique culture. This is one of the best things to do on Oahu with toddlers as they'll get to enjoy the outdoors and Polynesian culture.
Visit Hanauma State Park
One of the most beautiful state parks on the island, Hanauma is an excellent place for visitors of all ages. Of course, there are some hiking trails for older, more advanced hikers, but there are plenty of easy loops as well. You can bring your little ones along to splash around in the shallow, crystal clear waters of the park's beach.
Experience the Vacation of a Lifetime with Private Homes Hawaii Rentals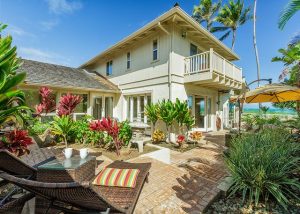 When you're headed to the islands of Hawaii, you'll want a beautiful and comfortable places to stay each night. Private Home Hawaii has everything you need with properties on both Oahu and the Big Island. After you've spent the day exploring all the best things to do on Oahu with toddlers, you can come back to the Place in Paradise. This two-story house has five bedrooms and five and a half bathrooms. It also features a gorgeous outdoor patio where you can enjoy breakfast as you gaze out at the bay. From here, you'll have easy access to all the best restaurants and activities the island has to offer.
So, what are you waiting for? Browse our catalog of available properties and book your Hawaiian getaway today!