Oahu or Maui: Which Is the Best for You?
Sun, sand, and excellent weather are all synonymous with Hawaii. With several islands to pick from, choosing which one to visit with your family can be a tall task. So, we ran through the activities, beaches, nightlife, and atmosphere to help you decide between Oahu or Maui! Which will you choose?
For more information on how to make the most of your trip to Hawaii, be sure to request access to our complimentary Vacation Guide!
Choosing Between Oahu or Maui
Beaches
Oahu
Figuring out which beaches fit your family trip is one of the most important factors when choosing between and Oahu or Maui vacation. Waikiki Beach is synonymous with beachgoers around the world as a haven for surfing and sunbathing. While it may gather all of the attention on Oahu, the North Shore provides some of the most extreme wave riding in the world. Waimanalo Beach and Hanauma Bay offer scenic and beautiful stretches of sand that offer great snorkeling.
Maui
While Maui may not have the big-ticket surfing that Oahu offers, it is home to many small, but stunning stretches of sand. Makena Beach, Wailea Beach, and Kapalua Bay Beach are among the best.
Activities
Oahu
Between outdoor activities such as snorkeling, surfing, and hiking to historical sites like Pearl Harbor and The Polynesian Cultural Center, there's truly something for everyone on Oahu. Honolulu is the central activity hub, but venturing out to the North Shore and one of the forest reserves on the island are musts if you want to get out and explore.
Maui
Outdoor adventure is the top thing to do on Maui (other than relaxing on the beach). Driving the Road to Hana, watching the sunrise from the top of Haleakela, snorkeling at Molokini, diving, and watching windsurfers from Kanaha Beach are just a handful of the fun things to do on the island.
Nightlife
Oahu
Honolulu is the hub for nightlife on Oahu. Here, there are plenty of wine bars, clubs, dive bars, shows, and more. Of course, if you venture outside of the city, you'll find luaus and entertainment rooted in Hawaiian culture.
Maui
This may be the most distinct difference when choosing between Oahu or Maui for your vacation. Maui is all about exploring and relaxing, so you will find limited nightlife options. Other than a classic Hawaiian luau, Lahaina is home to a collection of bars and shows (but most don't stay open past midnight).
Atmosphere
Oahu
Oahu has something for everyone. From the North Shore to the bustling streets of Honolulu, you'll find fast-paced city life and relaxed country happenings and everything in between, so you don't have to choose! It's all here on our island!
Maui
Maui offers more of a relaxed and rural atmosphere. Posh beach resorts make way to gorgeous forests in upcountry at the base of Haleakala. If you aren't a fan of cities and want to explore the outdoors, Maui is a great island to visit.
Plan Your Hawaii Experience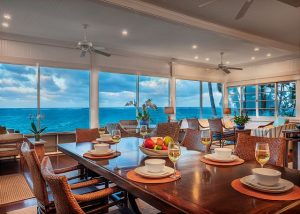 Private Homes Hawaii is your key to the ultimate vacation on Oahu and the Big Island. Our collection of top-notch luxury properties features amenities that are second to none, beautiful furnishings, and locations on or near the water. Are you ready to experience the best that Hawaii has to offer?
Start planning your trip today by booking one of our properties. We look forward to welcoming you to our island paradise.