Oahu ATV Tours You Need to Experience for the Best Adventure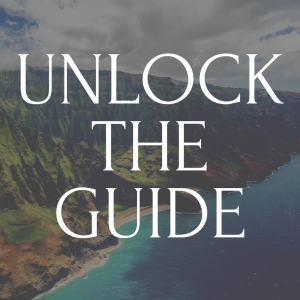 Not many people can say they've gone on a jungle expedition across the famous land of the dinosaurs! Oahu ATV tours are a unique way to explore Hawaii and its renowned movie filming locations. Speed through the highs and lows of the jungle, scenic valleys, and rocky roads of Oahu. Or, count the recognizable sites from some of the most popular Hollywood movie classics.
Before you put the all-terrain vehicle in gear, make sure you plan out your adventurous week in Hawaii! We've created the ultimate Vacation Guide for your trip. Unlock the free guide for access to the best attractions on Oahu and the Big Island of Hawaii!
The Best Oahu ATV Tours
Kualoa Ranch
Some of the best tours on Oahu are on Kualoa Ranch. It's a fun place to get down and dirty, driving through muddy paths leading to the ocean. We recommend their ATV Adventure Package. This all-inclusive package is perfect for those wanting to drive a single-passenger ATV. You can expect an hour-and-a-half of adventures as well as an all-you-can-eat buffet!
Raptor Tours
Other fantastic options include their multi-passenger ATV Raptor Tours. Raptors can hold two to six people, and children over five can ride with an adult as well! When you take this exciting tour, you can witness the beauty of the 1,000-acre Kaʻaʻawa "Jurassic" Valley.
There are several different Raptor Tours to choose from. You can opt for the One-Hour Raptor Tour, Two-Hour Raptor Tour, or Two-and-a-Half-Hour Raptor Tour, which includes lunch.
Hawaii's Best Movie Tour
Hawaii's Best Movie Tour is a hit for any classic movie buff. This tour doesn't include an ATV ride, but you can hop aboard a vintage bus before arriving at some of the most well-known film locations. Ka'a'awa Valley is known as Hollywood's Backyard and is home to 50 classic movie film sites. This tour is one-of-a-kind. You'll be able to take pictures with the famous fallen tree from Jurassic Park and walk in the footsteps of Godzilla! Other movies and shows filmed on Kualoa Ranch include 50 First Dates, Hawaii 5-0, and Lost.
Have a history buff in your group, too? This tour also takes you to a WWII army bunker built into the side of a mountain! Then, you can learn about the fascinating and rich history of the island by checking out the Kualoa WWII artifacts and exhibits!
Relax With Private Homes Hawaii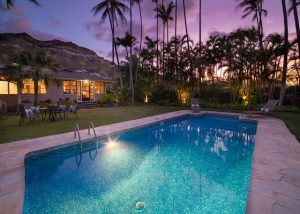 When it's time to turn the engines off and have a good night's rest, head back to your luxury vacation rental on Oahu. Private Homes Hawaii offers the best vacation homes in paradise! Select from a variety of large homes near the beach that can accommodate the whole family.
Book our Mokulua Aina – Lanikai rental in Kailua and enjoy a property surrounded by lush greenery, palm trees, and tropical flowers. This is a 30-day-rental, so you'll have plenty of time to explore the island. Plus, it's right on the Lanikai Loop, which is close to beaches, hiking trails, and the center of Kailua Town! Check our availability and start planning your tropical vacation today! Adventures await!