11 of the Most Captivating Museums on Oahu
One of the best ways to truly experience Hawaii culture is to check out some of the bestmuseums on Oahu. Set some time aside to learn about Hawaii between adventurous excursions and beach bumming, The best way to learn is through their art, history, and people. History buffs and art aficionados alike find joy in perusing exhibits. From magnificent works of art to impressive military air crafts, there is so much to see! Take the opportunity to appreciate how truly unique this state is. For more ideas on what to do and see during your Hawaii vacation, download our complimentary Vacation Guide!
11 Museums on Oahu You Have to Visit
Inspiring Art Museums
1. Shangri La
Encounter some of the most beautiful artwork at Shangri La. Admire Islamic art, architecture, and design. Learn about the global significance of their culture. You'll be amazed by the vibrant colors that fill the halls of this museum.
2. Honolulu Museum of Art
Surround yourself with a plethora of Asian and Pan-Pacific art. You have to check out the Honolulu Museum of Art. Guests also encounter works by masters such as Warhol, Picasso, Hokusai, van Gogh, Monet, and Gauguin. Ponder deeper meanings and feel inspired.
3. Hawaii State Art Museum
Admission at the Hawaii State Art Museum is free. The museum sits on the 2nd floor of the No. 1 Capitol District Building in downtown Honolulu. Admire striking sculptures. Contemplate contemporary paintings. You'll feel a resurgence of creative energy after your visit.
Natural and Cultural History Museums
4. Bishop Museum
Peer through glass cases and imagine a time long ago. At the Bishop Museum in Honolulu, visitors will find the world's most extensive collection of Polynesian cultural artifacts and natural history specimens.
5. Iolani Palace
Learn about the last reigning monarchs of Hawaii at the Iolani Palace. Stroll through the halls and appreciate the grandeur of the throne room, the dining room, the King and Queen's suites, the music room, and the imprisonment room.
6. Queen Emma Summer Palace
Familiarize yourself with more royal Hawaiian history at the Queen Emma Summer Palace. This mountain home served as a summer retreat for families of regal regard in the 1800s. Today, it is a historic landmark and an excellent museum to add to your itinerary!
7. Hawaii Plantation Village
Step back into time when you visit the Hawaii Plantation Village. This outdoor museum is the perfect stop for families. Explore the living history museum to learn about life on sugar plantations. It's one of the most interesting things to do on Oahu.
Engaging Military Museums
8. USS Arizona Memorial
Surely you're familiar with the significance of Pearl Harbor. This WWII watershed moment took quite a toll on Hawaii. Visitors can take a boat out to the memorial from the Pearl Harbor Visitor Center. The USS Arizona Memorial sits on top of (without touching) the ship that sank in 1941.
9. USS Bowfin Submarine Museum & Park
History buffs should definitely visit the USS Bowfin Submarine Museum & Park. At the museum, you can learn about the USS Bowfin submarine. The sub is known for patrolling the Pacific during WWII. All members of the family will enjoy this museum.
10. US Army Museum of Hawaii
Another museum with free admission is the US Army Museum of Hawaii. There, you can glimpse into the past of Hawaii's military history. Guests will see a myriad WWII and Vietnam-era arms and artifacts. They will also learn about what happened on the islands during WWII.
11. Pacific Aviation Museum Pearl Harbor
Stand in awe of giant vessels that flew through the air during WWII. Visitors will see various aircraft and carriers. Additionally, they can see the original bullet holes from the Pearl Harbor attack. The Pacific Aviation Museum in Pearl Harbor makes for a great addition to your Hawaii vacation.
Home Away from Home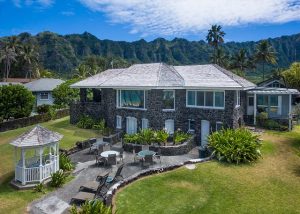 After visiting the best museums on Oahu, dining at exquisite restaurants, and exploring natural landscapes, return to your home away from home. Our Private Homes Hawaii vacation rentals come well-equipped to make your vacation dream-worthy. Our Hale Pohaku home in Waimanalo sits surrounded by lush mountains and towering palm trees. To top it off, the house is beach front! Admire white sandy beaches and turquoise waves crawling up the coast. The island is beckoning. Reserve your stay today!
TVU #- #90/TVU-0235