Here's How You Can Swim With Dolphins on The Big Island
One thing you need to cross off your bucket list while on vacation in Hawaii is to swim with dolphins on the Big Island. If there's one thing from this vacation that you will remember for the rest of your life, it's this! There is a wide variety of boat tours, dolphin tours, and snorkeling spots along the Kona coastline that allow you to swim with the friendly creatures of the sea.
Before you put on your snorkeling gear, make sure you access our complimentary Vacation Guide. We've created a useful tool with all of our favorite Big Island and Oahu attractions, restaurants, entertainment, and outdoor recreation in Hawaii. The best tropical vacation starts here!
Where to Swim With Dolphins on The Big Island
Dolphin Discoveries
Dolphin Discoveries is the first of the dolphin swim tours on the Big Island and has set the standards high for sustainable dolphin tours throughout the Hawaiian islands. Discover fascinating marine life, including tropical fish, humpback whales, manta rays, sea turtles, and, of course, dolphins when they take you to the Gold Coast's best snorkeling spots.
They offer several snorkel tours, dolphin tours, manta tours, and whale tours so that you can choose the best option for you and your family.
Hawaii Oceanic
Gather your small group for a snorkel adventure on a private boat charter with Hawaii Oceanic. You can explore the Kona coast while snorkeling at a coral reef. Their Dolphin Dreaming – Dolphin Swim tour is a small group experience rather than a big dolphin viewing cruise, so that you can avoid the crowds.
Or, you can see manta rays at nighttime as they perform their plankton feeding routine! It's a unique experience you must see for yourself!
Kona Ocean Adventures
Discover one of the best snorkeling spots in the area, Kealakekua Bay, and reserve a small group boat charter with Kona Ocean Adventures.
Enjoy local fresh-cut fruit, sandwiches, Hawaiian chips, and Captain Danny's homemade salsa as you explore the bay in search of dolphins. They offer scuba adventures, cruises, and private charters, as well as snorkeling with manta rays or dolphins.
You can expect to see hundreds of wild dolphins swimming all around you, including the spotted dolphin and spinner dolphin.
You don't need any experience for snorkeling, so bring the kids and the grandparents for a memorable time with the playful dolphins!
Relax in a Luxury Vacation Rental on The Big Island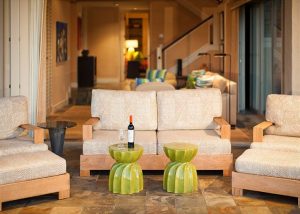 Stay with Private Homes Hawaii for the ultimate Hawaiian getaway. After a day of snorkeling adventures, relax in a beach home with the most spectacular ocean views. We offer top-notch amenities in all of our vacation rentals so that you have the best experience during your getaway.
Unwind in our Hualalai Resort – Palm Villa 130A rental, which happens to be one of the largest floor plans! It's perfect for your family vacation. In addition to a full, gourmet kitchen, beautiful garden, BBQ grill, pool, and two golf carts, you also can have access to the 4 Seasons Hualalai Resort. It's the best way to get the full Hawaiian experience during your trip.
If this sounds like your dream vacation, check availability, and reserve your tropical getaway today!