4 of the Best Beaches for Paddle Boarding on Oahu
Find the perfect balance of relaxation and adventure with a day of paddle boarding on Oahu. There are plenty of great spots on the island to dip your paddle along with a variety of great stand up paddleboard rentals to choose from.
After a day of adventures in the ocean, give the board a rest and refuel at some of the best restaurants on Oahu. We've put together a free Vacation Guide, packed with all of our favorite restaurants, outdoor recreation, entertainment, and attractions in Hawaii to help you plan the best vacation yet!
Where Is the Best Paddle Boarding on Oahu?
North Shore of Oahu
1. Haleiwa Beach Park
Experience the incredible North Shore of Oahu with a standup paddle boarding lesson on the calm, flat water of Haleiwa Beach Park. Rainbow Watersports takes you paddling where the water is smooth and glassy, perfect for beginners!
Reserve a private group lesson for your family, or book their public group lesson. But, for a truly unique experience, you have to try the Twilight Glow Paddle! Watch the sunset as your board lights up the ocean floor. It's a fun and exciting way to end the day!
2. Puaena Point Beach Park
Just north of Haleiwa Beach Park is Puaena Point Beach Park. You might recognize this beach from the TV series, "Lost."
This spot is perfect for testing the waters on smaller waves. Plus, you can see some pretty sights if you walk around on the beach! Find little fishes in the tide pools, created by lava. You may even spot some turtles basking in the sand!
Honolulu, Oahu
3. Ala Moana Beach
Alana Moana Beach Park is truly unique! This special beach has incredibly calm waters, that are amazing for paddleboarding. That's because the outer coral reefs protect it from waves!
You can rent SUP paddleboards or other beach rentals like kayaks, coolers, beach chairs, snorkel sets, umbrellas, and more from Beachtime Rentals.
This great paddle boarding spot is also in a great location. It's situated just between Waikiki and downtown Honolulu. So, after you finish paddling along the shore, stop by Ala Moana Shopping center across the street for some souvenirs.
4. Waikiki Bay
Visit the fantastic surfing and SUP hot spot, Waikiki Bay, next to Ala Moana Beach. Waikiki is absolutely stunning! Just beware, this incredible bay is very popular for tourists, so it's not uncommon to run into a little board traffic in the water.
You can head out on the water with a local private guide with Mahina Hawaii for a peaceful day on the beaches, rivers, and waterways.
One of the best ways to relax is by going on their five-day Mahina Retreat. They provide you with marvelous adventures, including paddling, hiking, surfing, snorkeling, and yoga! You're sure to feel rejuvenated and full of life from start to finish!
Unwind in a Luxury Vacation Rental on Oahu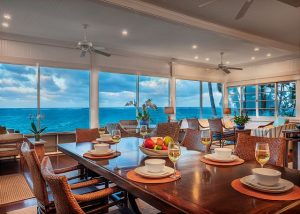 After an invigorating and energizing day paddling, rest in a luxury beach home on Oahu! Our stunning accommodations are spacious and close to the water, making them perfect for your family vacation!
Rest and recharge in Walker's Lanikai Beach House. This gorgeous beach house honors the Scotsman favored by Queen Liliuokalani for contracting iconic buildings in Hawaii, including the Bishop Museum and Honolulu Hale!
This magnificent vacation rental awaits in Lanikai, one of the most admired places in the world by Walker. Check our availability and book your stay in this special home!
TVU: #90/TVU-0042