4 of the Best Oahu Zipline Adventures
The beautiful island of Oahu is full of adventures around every corner. Oahu Zipline offers an array of fun and exciting excursions throughout the area. Keep reading to discover how you can experience the thrill of zipping through the lush forests and verdant valleys of our island oasis!
If you're searching for more ways to make the most of your vacation to Oahu or the Big Island, be sure to download our complimentary Vacation Guide!
4 Oahu Zipline Adventures
1. Climbworks at Keana Farms
Climbworks at Keana Farms is one of the best Oahu Zipline tours and their only excursion on the North Shore. This exciting three-hour tour takes on hikes through gorgeous forests, allows you to ride in an ATV, and lets you fly along the longest zipline on the island while soaking in stunning views of the ocean. With over 2400 feet of ziplining, there are plenty of thrills here for everyone in your family!
2. Jurassic Ziplines
A true adventure awaits visitors with Jurassic Ziplines tours. This Oahu Zipline selection includes a variety of excursions based our of Kualoa Ranch on the eastern coast of the island. Once you receive your safety instructions, you will head to the starting point in Kaaawa Valley, where filming for Jurassic Park, Lost, and Godzilla took place. The natural beauty of this lush valley is unbeatable as you fly over the tops of trees and soak in the incredible views. You can also try out one of their ATV, kayak, or horseback riding tours while you're there.
3. Coral Crater Adventure
Their Coral Crater Adventure tours are perfect for beginner zipliners. You can choose between a three or six zipline tour package that showcases gorgeous views of the surrounding forest while flying 60 feet above the ground at speeds of up to 35 miles per hour.
4. Zipline + Mini Putt
The Zipline + Mini Putt adventure combo is a fantastic choice if you have smaller children with you. You can enjoy three beginner ziplines through their Kaneohe Bay complex before playing 18 holes of mini–golf.
Book Your Private Homes Hawaii Rental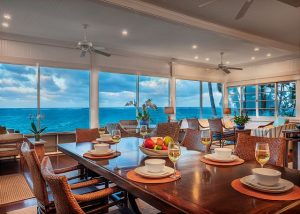 Private Homes Hawaii is your key to the ultimate vacation to Oahu. Our collection of top-notch luxury properties features amenities that are second to none, beautiful furnishings, and locations on or near the water. Check out our list of things to do on the Big Island for more information to help you plan your trip. So, are you ready to experience Aloha the right way?
Start planning your trip today by booking one of our properties. We look forward to welcoming you to our island paradise.