Why an Oahu Sunset Cruise Is the Experience of a Lifetime
Imagine this: You're standing on a boat, floating over the calm waves, under a sky full of pink, orange, and purple watercolors. All that matters to you are the warm, salty breeze in your hair, the sound of the gentle splashing of ocean water, and living in the moment with your loved ones in Hawaii. This can be you soon. Book an Oahu sunset cruise for one of the most memorable views of your life.
But, before you set out to sea, make sure to view our free Vacation Guide. We've crafted a list of the absolute best places to visit in Hawaii when it comes to dining, entertainment, and sight-seeing.
"Never waste any amount of time doing anything important when there is a sunset outside that you should be sitting under!"
― C. JoyBell C.
The Magic Experienced on an Oahu Sunset Cruise
Do You Believe in Magic?
As a layer of purple rises above the orange sky, be on the lookout for the green flash. It's a rare sight, so if you're lucky, and in the right place at the right time, you might be able to cross it off your bucket list. This green phenomenon in the sky can happen on Oahu when refraction bends light from the sun.
Even if you aren't able to catch a green flash, consider yourself lucky to have experienced a magical Oahu sunset.
Oahu Catamarans
One of the best sunset cruises you need to experience is Sunset Sail Honolulu with Oahu Catamarans. The two-hour excursion takes you out to sea just before the sky turns different shades of orange and pink. Once night falls, you can see the twinkling lights of Honolulu in the distance.
This spacious catamaran includes snacks, drinks, a stereo system, and restrooms. Don't forget to BYOB!
MANA Cruises
Live your best life when you spend an evening with MANA Cruises. A luxury catamaran takes you out on the sparkling waters of the Pacific Ocean to catch the sunset, go snorkeling, spot some whales, or try an island-style Pupu tasting platter. This luxury yacht experience allows you to experience the five senses of Hawaii in two-and-a-half hours!
MANA Cruises is one of the top Oahu sunset cruises, and is featured in prominent media outlets such as People Magazine, CBS, FOX, and Forbes. You don't want to miss out on this luxurious experience.
Catch the Next Sunset With Private Homes Hawaii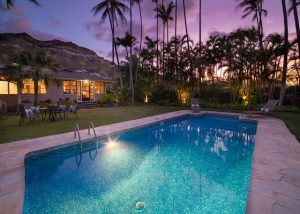 After an Oahu sunset cruise, you can watch the sunset every evening from your oceanfront patio, seating area, or private pool when you stay with Private Homes Hawaii. Our high-end vacation rentals on the beach are the best place to escape the every day and get the relaxation that you deserve.
Pour yourself a fruity mai tai and sit by the pool at our Mokulua Aina-Lanikai property in Kailua. This home near the beach accommodates six people, and lush flowers and palm trees surround the property.
White sand, turquoise water, and pink skies await in Hawaii. Check our availability and book your dream vacation now.