You Need to Cast a Line on These Oahu Deep Sea Fishing Charters
Fun Fact: The official state fish of Hawaii is the Humuhumunukunukuapua`a, also called a Hawaiian triggerfish.
You can't go on an island vacation without spending some time on the water. During your stay in paradise, fill your days with outdoor adventures and delicious food!
Oahu deep sea fishing
is a must because Hawaiian food is even more rewarding when you catch your dinner yourself. And, if you'd like to try more local dishes, take a look at our complimentary
Vacation Guide
. It includes all the best restaurants, outdoor recreation, and entertainment on Oahu and the Big Island.
Get the Guide!
The Best Oahu Deep Sea Fishing
Magic Sport Fishing
Many factors need to be taken into account when going deep sea fishing in Hawaii, but you don't need to be an expert to do it.
Magic Sport Fishing
takes you out on a fishing trip with a captain and crew that know the right spots, time, and conditions to find the perfect catch. The Magic is a yacht in Honolulu, just minutes from Waikiki. This luxury boat takes you out to sea for eight to 10 hours, giving you plenty of time to catch blue marlin, ahi (yellowfin tuna), mahi mahi, or ono (wahoo).
Maggie Joe Sport Fishing
Arrive at the Kewalo Basin at 6:00 a.m. to go on an adventurous excursion with
Maggie Joe Sport Fishing
. They will take you out any day of the week, whether you'd like to see the big blue for half a day or a full day. Just bring food and drinks, and they'll provide coolers and ice. Or, you can request catering for the ultimate day on the water. After a quick morning briefing, you're ready to go! Fishing tackle, gear, and licenses are all taken care of so you're prepared to reel in your big catch. Maggie Joe also offers sunset cruises, island hopping cruises, and nighttime shark fishing! See the exciting predators of the deep under a sky full of fireworks. You can view the weekly display every Friday in Waikiki.
Ruckus Sportfishing and Diving
Learn practical techniques with the knowledgeable crew at
Ruckus Sportfishing and Diving
. You'll want to travel lightly, as Ruckus Sportfishing charters provide you with reels, rods, bait, tackle, fishing licenses, ice, and coolers! The main thing you should know: do not bring bananas on the boat. They're extremely bad luck while fishing! And, be on the lookout; the team says they sometimes see their friend, Tako, a sneaky little octopus. Keep your eyes peeled, because Tako is tricky to find!
Return to a Luxury Private Homes Hawaii Vacation Rental on Oahu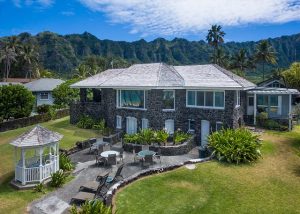 After you return from your deep sea fishing trip (hopefully satisfied with an impressive catch!) relax in a
luxury beach home
with Private Homes Hawaii. All of our homes provide an elegant setting with premium amenities for your Hawaiian vacation. Stay in
Hale Pohaku
, a stunning beach home on Waimanalo. It's one of the most gorgeous beaches on the island of Oahu! This beautiful house is made of lava rock from King Kalakaua's reign. Bring the family, because this Oahu vacation rental accommodates eight people.
Check our availability
, and soon, you could be relaxing in a gorgeous home by the Pacific Ocean! Licensed TVU: #90/TVU-0235