Why You Need to Go Kayaking on Oahu
The islands of Hawai'i are one of the best places in the world to participate in a range of water activities. While the Aloha State is known as a surfing mecca, there are tons of other sports to partake in during your visit. A favorite water activity for locals and visitors alike is kayaking on Oahu. You can explore the crystal clear sea and witness the natural beauty of the island of Oahu.
To help cut your planning time in half, you should request a complimentary copy of our Vacation Guide! Inside, you'll discover fantastic suggestions on the best restaurants, and sites to visit as well as other outdoor activities like kayaking on Oahu. Using this unique local insight, you're sure to have a unique travel experience.
Top 3 Places to Go Kayaking on Oahu
Kailua Beach
Connected to the popular Lanikai Beach, Kailua Beach is another white sand locale with bright blue ocean water. Because Kailua is sheltered from rough currents and waves by a reef, this is an excellent place to go kayaking on Oahu. You can choose to rent kayaks and venture out on your own or sign up for a guided tour.
Kailua Beach Kayaking Adventures offers a two-hour guided excursion, which includes snorkeling, lunch, and transportation. During this tour, you'll glide past sea turtle feeding grounds with the gorgeous Ko'olau Mountain Range surrounding you.
The North Shore
While most people venture to this area of the island for the surfing conditions, kayaking the North Shore on Oahu is another popular activity. If you're feeling adventurous and want to explore by yourself, the company Beach Time will deliver kayaks to a number of places along the north shore. Those looking to go river kayaking on Oahu should follow the one-mile route from the Anahulu River to Haleiwa Beach Park. This river is known as one of the best areas to spot sea turtles, so be sure to check the waters as you paddle!
Kaneohe Bay
The waters of Kaneohe Bay are calm and beautiful with dozens of sea creatures living in the reefs. Anyone planning to kayak in Kaneohe Bay should definitely bring snorkeling gear to witness the colorful fish and marine life. Then, be sure to stop at the sandbar known as The Sunken Island. This unique feature, also dubbed the Disappearing Island, is only accessible during low tide but is one of the bay's most popular attractions, so check the tide charts before heading out.
Enjoy a Stay with Private Homes Hawaii
Private Homes Hawaii has several properties near popular spots for kayaking on Oahu. Large groups or multiple families traveling together will love staying in this Kehaulani rental near Lanikai. With four bedrooms and four bathrooms, this home can accommodate up to ten people. From the back lanai, enjoy stunning views of the Mokulua Islands while grilling up a delicious meal.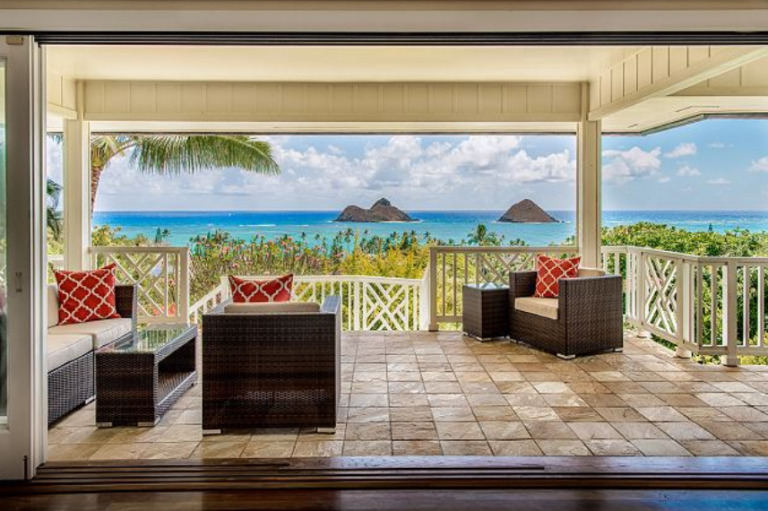 Browse our complete catalog of other available properties and start planning your getaway today! We can't wait to make your trip a memorable one.