Your Guide to Jet Ski Rentals and Tours in Hawaii
For many people, a trip to Hawaii is the vacation of a lifetime. Each of the islands that make up the state of Hawaii has its own unique activities and areas to visit. If you're planning a trip to the islands, you'll find plenty of great things to do during your stay. Because the islands are so naturally beautiful, as is the weather, most travelers plan to spend a lot of time outdoors. One of the most thrilling activities you should add to your itinerary is jet skiing in Hawaii! You'll be able to enjoy the island scenery while experiencing the rush of driving a jet ski. Read on to learn more about rentals and places to go.
As you plan your dream escape, be sure to request your copy of our complimentary Vacation Guide. Inside, you'll find everything you need to know about the best places to dine, shop, and explore. Plus, this handy travel planner includes other ideas on great water activities and exciting hikes on the islands of Oahu and the Big Island. Get yours today!
How to Enjoy Jet Skiing in Hawaii
Find a Nearby Jet Ski Rental
On both Oahu and the Big Island, you'll find plenty of places to rent jet skis. If you're spending your day on Oahu, then Tom's Barefoot Tours is a great option. The company offers jet ski rentals for two, as well as other tour options that include activities like parasailing. Also on Oahu, H2O Sports is a reputable company offering jet skiing in Hawaii along with parasailing, bumper tubing, and more. If you're spending your vacation on the Big Island, then Kona Jet Ski Rentals is the premier rental company for all your water-related activities.
Where to Go Jet Skiing
There is a nearly endless list of beautiful places to jet ski in Hawaii, but where you rent your gear will likely determine your destination. Travelers who are jet-skiing on Oahu often leave from Honolulu and explore the Maunalua Bay. For those of you jet skiing on the Big Island, you can leave from Kona and explore the surrounding area with many beautiful mountains and beaches.
Get a Taste for the Hawaiian Lifestyle When You Stay With Private Homes Hawaii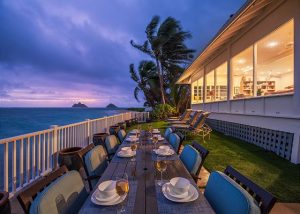 After a long day of jet skiing in Hawaii, you and your family or friends will need a relaxing place to stay. Our Private Homes Hawaii properties are some of the most luxurious accommodations you can find on the Big Island and Oahu. When you stay with us, you'll have access to amenities, including private pools and beachfront access, depending on which property you select. Each of our homes is elegant and spacious, providing plenty of room for the entire group.
When you rent the Walker's Lanikai Beach House, you'll have access to this hideaway beach mansion with five bedrooms and four bathrooms. From the beautiful backyard, you'll have a full view of Lanikai Beach. You can walk just steps from the house to the beach! The main house features three bedrooms, and the guest house with a separate entrance offers another two bedrooms. This Oahu oasis is one of the best properties on the island.