Everything You Need to Know About the Diamond Head Crater Hike
Sure, Hawaii is full of gorgeous beaches, surfing, shave ice, and mai tais. But there is also plenty of history and natural beauty that await you on our beautiful islands! One of our favorite activities for first–time visitors is a hike up the Diamond Head Crater. This trek provides some of the most stunning panoramic views of Honolulu on the island!
If you want to discover more ways to make the most of your trip to Oahu, be sure to download our complimentary Vacation Guide!
Your Guide to the Diamond Head Crater Hike
The Diamond Head Crater hike is a fun activity that everyone in your family can enjoy together. Most of the trail consists of natural surfaces with switchbacks and a lighted 225-foot tunnel. Once you reach the summit, you can revel in the postcard views of the Pacific and Honolulu. Snap a few pictures of the surrounding mountains and Waikiki Beach before heading back down. While the 1.6-mile round trip, 500-foot ascent from the parking lot has several very steep sections, the combination of stairs and a short distance allows for most able people to arrive at the top. Overall, the Diamond Head Crater hike difficulty is moderate, and the hike time is around two hours. A trek to the top of this icon is well worth the visit, especially if it's your first time on Oahu.
Best Hikes Near Diamond Head
The Diamond Head Crater hike isn't the only great trail in the area! Head up into the mountains of the Honolulu Watershed Forest Reserve to discover a handful of incredible trails that will take through some of the most beautiful scenery on Oahu.
Diamond Head Crater History
The Diamond Head Crater formed over 300,000 from a single volcanic explosion of ash. This beautiful saucer-shaped crater is one of the most iconic sights near Oahu. During the 20th century, the United States Military constructed the trail as a part of a coastal defense system with batteries situated around the rim of the crater. Today, it still stands as a monument to the military.
Discover the Ultimate Adventure on Oahusunrise view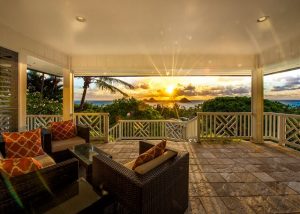 Private Homes Hawaii is your key to the ultimate vacation to Oahu. Our collection of top-notch luxury properties features amenities that are second to none, beautiful furnishings, and locations central to some of the most scenic beaches and top activities. Check out the relaxing oasis that is our Mokulua Aina rental! Are you ready to experience the best that Hawaii has to offer?
Start planning your trip today by booking one of our properties. We look forward to welcoming you to our island paradise.