Why You Need to Explore a Black Sand Beach on the Big Island
Hawaii is home to some of the best beaches in the world. While they vary in beauty, discovering a black sand beach on the Big Island is truly special. Formed by thousands of years of volcanic eruptions and weathered rock, these unique marvels are definitely worth visiting during your time in Hawaii.
For more ways on how to make the most of your trip to Hawaii, be sure to request access to our complimentary Vacation Guide!
Why Explore a Black Sand Beach on the Big Island?
The Big Island's history of volcanic eruptions means that you'll find plenty of volcanic rock around the shore, especially on the south side of the island. After years and years of erosion from water and wind, this rock breaks down into the marvel that is black sand. You can explore a handful of Hawaii's unique black sand beaches during your time on the Big Island. While most of these unique stretches of sand aren't great for swimming, they make for a fun and exciting morning or afternoon of exploring.
3 of the Best Black Sand Beaches on the Big Island
Pololu Beach
Pololu Beach is one of the most scenic stretches of sand on the Big Island. It's the only accessible black sand beach on the North Kohola Peninsula. You have to hike from Polulu Valley Overlook down a steep trail to the beach, where you can take a stroll along the expansive coastline. We recommend staying on land here, as the riptides are incredibly strong here.
Tip: The Polulu Trail is very muddy and slippery, so use caution when hiking down to the beach.
Kehena Black Sand Beach
Kehena Black Sand Beach offers beautiful views of the Big Island coastline. You can spot spinner dolphins playing off the shore when the ocean is calm. This is definitely a can't miss spot if you want to take a gander at a true black sand beach.
Tip: Nude sunbathing, while illegal, is quite common with locals here.
Punalu'u Beach
Punalu'u Beach is one of the most renowned black sand beaches in the world. Draped along the shores of a small inlet south of Hilo, this beautiful stretch of sand is home to sunbathing Green and Hawksbill sea turtles sunning themselves under the hot Hawaiian sun. We do not recommend swimming at this black sand beach on the Big Island, given the rocky ocean floor and strong currents.
Discover Your Hawaii Getaway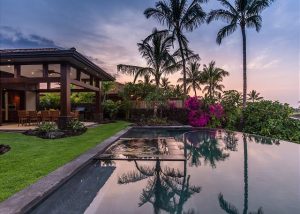 Private Homes Hawaii is your key to the ultimate vacation to the Big Island. Our collection of top-notch luxury properties features amenities that are second to none, beautiful furnishings, and locations on or near the water. Are you ready to experience the best that Hawaii has to offer? Don't forget to check out some of our favorite things to do on the Big Island!
Start planning your trip today by booking one of our properties. We look forward to welcoming you to our island paradise.