Here Are the Benefits of Booking Direct With Private Homes Hawaii
Are you planning a tropical getaway to Hawaii? That's super exciting! You'll need somewhere to make your home base for all your Hawaiin adventures, so it's time to start investigating options for accommodations. While it might be tempting to browse general booking sites and hotel chains, we encourage you to stray away from this. If you didn't know, there are many benefits of booking direct with a vacation rental company, and we'll tell you everything you need to know!
After booking your stay, it will be time to start laying out your vacation itinerary. Unlock our complimentary Vacation Guide to discover local insight about the area's best restaurants, activities, events, and more!
Check Out the Benefits of Booking Direct With Private Homes Hawaii
1. Lower Prices
Did you know that travelers who book with online travel agencies (OTA) typically pay higher rates than those who book directly with a hotel or vacation rental company? This is due to hidden fees and increased accommodation prices so that these third-party sites can pocket a profit. There's no need to waste your hard-earned cash when you can book directly with us and receive a best-rate guarantee. This way, you'll have more money to save and spend on fun-filled activities on the island.
2. Superior Customer Service
When you book through an OTA, you'll miss out on the top-notch Private Homes Hawaii experience. You'll take the risk of communicating with a representative that is unfamiliar with the brand and has never visited the area. For a decade, we have helped people like you find the perfect vacation rental and make their dream getaway become a reality. We're Hawaiian locals, and we take pride in being experts in our field.
3. Access To Insider Information
It's no secret that planning a vacation can be overwhelming. When you book direct with Private Homes Hawaii, you'll have everything you need to make your trip unforgettable. Not only do we have an impressive collection of properties varying in size, price, and amenities, but we also have the inside scoop on the best things to see and do in the area. Our blog is loaded with local insight, and our Vacation Guide is the ultimate vacation-planning tool. Whether you're interested in learning about annual events, delectable dining, exciting excursions, or luxurious spas—we've got you covered. Plus, if you sign up for our newsletter, you'll always be in the know when it comes to special offers and opportunities.
Book Direct and Stay With Private Homes Hawaii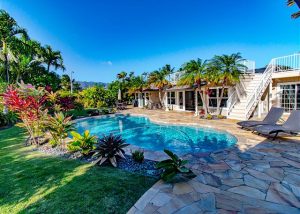 Now you know that you can't beat booking direct with Private Homes Hawaii. We're happy to offer luxurious vacation rentals on Oahu and the Big Island that can be your home away from home. Many of our properties feature open-air floor plans, fully-equipped kitchens, king-sized beds, spa-like bathrooms, private pools, ocean views, and more! You'll have everything you need for an unforgettable stay in Hawaii.
Browse our accommodations and find the perfect property for you. We can't wait to host you!