The Best Oahu Itinerary for a 5-Day Vacation
For such a small island, Oahu boasts endless adventure. Experience the meaning of "Aloha" while basking in the sun's rays and surrounded by crystal blue Pacific waters. Planning the perfect trip to your dream destination can be overwhelming. We've designed the perfect 5-day Oahu itinerary that allows you to enjoy the best the island has to offer. Between volcanic exploration and deep-sea snorkeling, enjoy sweeping views. Life is too short not to follow your dreams. It's time to take that leap and plan your trip!
OurOahu itinerary for a 5-Day vacation serves as a great starting place when planning your trip. For more details and suggestions, download our complimentary Vacation Guide!

Take a Look at Your Oahu Itinerary for the Best 5 Days of Your Life
What You Need to Know Before Your Trip to Oahu: The Best Oahu Transportation
Try to secure a car rental ahead of time so that you can get around the island easily. You can also choose to use ride-sharing services like Uber and Lyft.
But if you plan to travel around a lot, we highly recommend you get a rental car as you'll probably get more bang for your buck!
Check out our concierge services for more help preparing for a stress-free getaway. Or figure out when the best time to visit Oahu by reading our blog post!
Day 1: Hike Diamond Head Trail or Explore Downtown Honolulu
With so many things to do in Oahu, make sure to fuel up with a hearty breakfast. Hikers from around the globe gather on the island to experience Diamond Head, one of the most beautiful natural wonders the planet has to offer. Sweeping, panoramic views span the blue horizon and the colorful city below.
If you favor history over hiking, visit the Pearl Harbor and WWII Monument, USS Arizona Memorial, or visit the National Memorial Cemetery of the Pacific.
Then, step foot onto a national historic landmark in downtown Honolulu. Iolani Palace once housed the Hawaiian Kingdom's monarchs: King Kalakaua and Queen Liliuokalani.
The nearby Hawaii State Art Museum and Chinatown might also interest you for your Day 1 itinerary!

Day 2: Kayak, Snorkel, and Catch the Sunset
Make kayaking and snorkeling your next big Oahu excursions. Take a tour that requires paddling through the waves in a kayak. The Hanauma Bay Nature Preserve welcomes you to explore coral reefs and diverse marine wildlife. Expect to see sea turtles, colorful fish, and a vibrant underwater ecosystem. After a few hours of snorkeling, grab a quick bite at a nearby cafe.
After the sun sets and the moon rises, treat yourself to none other than some delicious mai tais in a little Honolulu nightlife. Make reservations ahead of time at a Japanese restaurant like Nanzan Giro Giro or an Asian-Hawaiian fusion establishment like Alan Wong's Restaurant for a taste of Hawaii's fine-dining scene.

Day 3: Chase Waterfalls and Indulge in Authentic Cuisines
No Hawaii vacation is complete without discovering the best waterfall hikes on Oahu. Hike through lush Hawaiian jungles and encounter towering trees and rushing waterfalls. For large groups and families, consider hiking the Maunawili Falls trail or check out the popular Manoa Falls.
If you're up to the challenge of a more strenuous hike, the Lulumahu Falls will appeal to your adventurous side. Explore bamboo forests and come face-to-face with a 50-ft waterfall.
After exerting so much energy in the hot sun, take the time to unwind a little. Dine in luxury, sip fine wine, and soak in gorgeous ocean views. Choose between some of the best restaurants on Oahu. From Vietnamese noodles dishes and vegan pho to Japanese-Peruvian cuisine and authentic Hawaiian food, the dining options leave nothing to be desired.

Day 4: Relax, Meditate, and Soak Up the Sun
Your body needs some tender love and care after days of adventures. Start your day with a relaxing massage or facial at a highly-acclaimed spa. Once you're feeling renewed, embark on a journey to the Byodo-In Temple in the Sacred Valley of the Temples. Admire the beauty and surround yourself with a sense of calm in this meditative setting.
Absorb the healing qualities of the salty ocean and humid air. Allow yourself plenty of time to kick back on one of Oahu's best beaches. You don't want to miss the opportunity to visit the most popular beach in the world!
Waikiki Beach once served as a playground for Hawaiian royalty and, thanks to Duke Kahanamoku, became the birthplace of modern surfing. Listen to the sound of the tide roaring in, feel the sun's warmth on your skin, take a surfing lesson, and savor each moment you have left on the island.
Day 5: Celebrate the Culture and Beauty of Hawaii
Wrap up your vacation by spending your last evening in nature. Celebrate the completion of your trip and memories made in the past week by grabbing a traditional sweet treat from Matsumoto Shave Ice or an acai bowl from Haleiwa Bowls before checking out Sunset Beach, Haleiwa Beach Park, or Waimea Bay.
Here, you'll surely appreciate the natural beauty of the island. By this point, you may already have a return trip in mind!
Make One of Our Vacation Homes Your Hawaii Home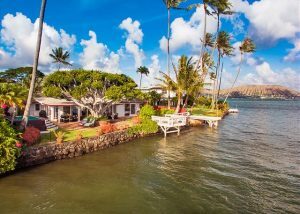 Get rid of the jet lag and enjoy ultimate relaxation and comfort in a beautiful, luxury vacation rental on Oahu. However you choose to spend your time on the island, you can always look forward to being able to kick your feet up, soak in a hot tub or private pool, and rest before another day of tropical adventures.
Our vacation rentals boast comfort, quality, and stunning tropical views. Each vacation home is conveniently near the best attractions like Lanikai Beach, Kailua Beach, downtown Honolulu, Dole Plantation, Pearl Harbor, and more!
Our Niuiki property provides a soothing environment to rest your head between big adventures. Located halfway between Kahala and Hawaii Kai, this location is ideal for those who wish to see all Oahu has to offer. Check our availability and reserve this beauty now!