Visiting the Hawaiian Islands is something many people wish to do in their lifetime. On one side of an island, you might encounter active volcanoes or roaring waterfalls tucked beneath dense jungle canopies. On the other side, you can see snow-capped mountains in contrast with roaring cerulean waves crashing against the sandy white shores.
Continue reading for some of the best things to include in your Hawaii bucket list. Then, check out our comprehensive Vacation Guide for even more ideas for things to do on Oahu and the Big Island!

Your Guide to the Ultimate Hawaii Bucket List
Oahu
1. Surf the Best Beaches for Surfing in the World
Looking to catch the perfect wave at the best surf spot on the globe? The North Shore of Oahu is where you'll find it.
During peak season, glide across glassy, towering waves that swell from 36 to 50 feet usually. They even sometimes reach 100 feet! These Kahunas are dangerous, so leave it to the professionals, but they're an incredible sight to see.
Some of the most epic spots on the North Shore include Banzai Pipeline, Sunset Beach, and Waimea Bay (near the magnificent Waimea Canyon State Park, which you should save for the next day of your trip!)
On the South Shore of Hawaii, you'll find another surfer's paradise – Waikiki Beach. Its calm waters make Waikiki perfect for a surf lesson and view of Diamond Head!
2. Take in Views of Honolulu on the Diamond Head Crater Hike
A visit to Oahu isn't complete without hiking Diamond Head! Once you reach the summit, you can soak in views of the vibrant streets of Honolulu, the beautiful blue waters of the Pacific, and fluffy white clouds painting the horizon. If you're lucky, you might even spot breaching humpbacks!
4. Scope Out Makapu'u Point Lighthouse
For an exciting day outdoors, hike the Makapu'u Point Trail on the Kaiwi State Scenic Shoreline. There, you'll see extraordinary views of Koko Head, Koko Crater, Makapuʻu, and Waimanalo Bay. This is a must for your Hawaii bucket list!

5. Hike the Stairway to Heaven
Did you know that it is illegal to be on the actual Haiku stairs? Don't fret. You can still cross hiking the Stairway to Heaven off your bucket list.
The Moanalua Valley Trail takes you branches off to take you up to the top without having to risk fines, court dates, and disrupting neighbors! The trail can be quite difficult to hike. Experienced hikers recommend you go with a local who knows the area.
6. Visit Pearl Harbor
History buffs won't want to miss out on touring Pearl Harbor museums and WWII battleships such as the USS Arizona Memorial and the USS Bowfin Submarine. While it can be heavy, hearing the history of this national historic landmark, is an experience you don't want to miss.
7. Snorkel at Hanauma Bay
Hanauma Bay is undoubtedly one of the best spots on Oahu for snorkeling! Because of the dense population of colorful fish, it's the perfect place to explore what lies beneath the waves.
The Big Island
8. Experience a Black Sand Beach
Have you ever seen a black sand beach? It's a real thing in Hawaii! You HAVE to visit one of the black sand beaches on the Big Island. These unique shores came about after thousands of years of volcanic eruptions.
If you want to cross this natural beauty off your Hawaii bucket list, add Polulu Beach, Kehena Black Sand Beach, or Punalu'u Beach to your Big Island itinerary.
9. Fly Over Hawaii Volcanoes National Park
If you've never seen a volcano before, then a visit to the Big Island is a must! The park is home to one of the most active volcanoes on earth. In fact, you might encounter volcanic rock across the entire island! Take a helicopter tour over an active volcano for one of the most unique Hawaiian vacation experiences!
10. Swim with Manta Rays at Night
The Manta Ray Night Dive with Big Island Divers is one of the top-rated dives in the world. It allows you to get up close and personal with these majestic sea creatures. There's truly nothing like it!

11. Stargaze Like Never Before at Mauna Kea Summit
Seeing the night sky aglow with stars in the Hawaiian night sky is a humbling experience. You suddenly become aware of how bright and brilliant the universe can be while stargazing from the Mauna Kea Summit.
Recharge Your Energy in the Best Vacation Rental in Hawaii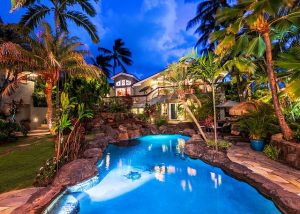 Regardless of whether you choose to stay on the Big Island or Oahu, making a Private Homes Hawaii vacation rentalyour home away from home should be on your Hawaii bucket list! Our properties uphold a standard of quality that is unparalleled in the industry. Just imagine waking up to the sound of waves crashing along the shore just steps away from your covered lanai in a home like our Oahu Palione Papalani, or "Heavenly Sand Dune," rental!
TVU: #90/TVU-0060
What are you waiting for?