Everything You Need to Know About Big Island Bike Tours
Do you want to explore the culture, history, and natural beauty that Hawaii offers without having to sacrifice time spent in the beautiful outdoors? Well, you can trade your car for two wheels with Big Island Bike Tours! This local company offers an array of excursions around the island that allow you to immerse yourself in the best that the Big Island has to offer!
For more ways on how to make the most of your trip to Hawaii, be sure to request access to our complimentary Vacation Guide!
The Best Big Island Bike Tours
Road Bike Tours
Big Island Bike Tours selection of road bike tours provides cycling enthusiasts with some of the most unique ways to experience the diverse landscapes of our island. Choose from excursions highlighting Kona coffee country, Waipio Valley, Wood Valley, and South Point Park. These exciting rides offer a thrilling opportunity to see some of the most beautiful sights on the island while enjoying a stimulating workout.
E-Bike Adventure
If you want to explore the Big Island on two wheels without having to worry about peddling up and down hills, then an E-Bike adventure is perfect for you. This great family-friendly activity allows you to cruise around on an electric bike with your group to either Anna Ranch or Mana Road. Easy off-road elements, waterfalls, and other stunning scenery are just a few of the highlights on these incredible Big Island Bike Tours.
Gravel Ride Tours
Challenge yourself to off-road biking with Big Island Bike Tours. Their gravel ride tours include the Hawi Gravel Challenge and the Mana Road Gravel Epic 46. Explore the birthplace of King Kamehameha, ride through the rolling hills of Waimea, and revel in the stunning natural scenery around you. While you're at it, you'll also get to sample of our world-famous Kona coffee. Not a bad way to start the day, eh?
Bespoke Tours
Dive into the rich Hawaiian culture of the Big Island with a special bespoke tour! Ride through the Wood Valley and South Point while stopping at local bakeries, coffee brewers, incredible snorkel spots, historic churches, and more! It's the perfect mix of cultural immersion and outdoor activity.
Mountain Bike Excursions
You can cruise through the stunning mountains of the Big Island with four unique tours designed for bikers. Whether you're a true off-road biker or enjoying a family ride, you'll find the perfect tour for your group!
Multi-Day Trips
Do you live to bike? Well, you can circumnavigate the island with the most involved Big Island Bike Tours offering! This multi-day excursion takes you from coast to coast, showing you the best that Hawaii has to offer!
Plan Your Big Island Adventure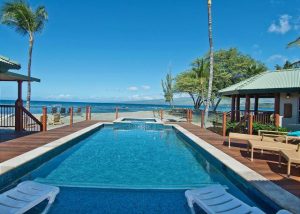 Private Homes Hawaii is your key to the ultimate vacation to the Big Island. Our collection of top-notch luxury properties features amenities that are second to none, beautiful furnishings, and locations on or near the water. Check out the incredible oceanfront setting of our Puako Hylton rental! Are you ready to experience the best that Hawaii has to offer?
Start planning your trip today by booking one of our properties. We look forward to welcoming you to our island paradise.