4 Hawaii Hidden Gems You Need to Know About
With Hawaii being a state comprised of several tropical islands, it's no surprise that it's full of hidden gems. When you travel off the beaten path in Hawaii, some hidden gems you might discover include mystical caves, statues honoring a religion based on aliens, and quiet beaches. Read on to find some of the most fascinating, yet obscure places in the United States. But, before you begin your journey make sure to use our complimentary Vacation Guide to Oahu and the Big Island. We've crafted together a list of our favorite places to wine, dine, shop, and explore on our beautiful islands!
Hawaii Hidden Gems You Need to Discover
1. Kaumana Lava Tubes | Big Island
The Kaumana Lava Tubes are a hidden gem that most tourists don't know about. These lava tubes are tunnels that used to have molten lava pulsing through them. You can explore these caves and tunnels without a tour guide. Just make sure to be careful of the jagged walls!
2. Raëlian UFO Peace Park | Big Island
Do you ever wonder if aliens exist? You may be interested in seeing this unusual park on the Big Island. Raëlian UFO Peace Park is an attraction that recognizes the beliefs of Raëlianism, an alternative religion. They follow the concept that living things on Earth stem from an alien species. When you discover this unique part of the island, you'll catch a glimpse of some fascinating statues throughout.
3. Kawela Bay | Oahu
Looking for an intimate, secluded beach on Oahu? One stunning beach you should visit is Kawela Bay on the North Shore. This quiet beach is a lesser-known beach, and the waves are usually calm, making it perfect for a relaxing beach day. Explore the area, and you're sure to feel like you're in a fairytale. Towering banyan trees reach towards the sky, adding a touch of mystery to this hidden gem.
4. Sanju Pagoda | Oahu
You can stand beside a 119-foot magnificent structure when you visit Sanju Pagoda in Honolulu Memorial Park. The captivating structure is a replica of Minami Hoke-ji Temple in Japan. It's also one of the tallest temples in the United States, standing tall with three stories! It's definitely a stunning sight to see!
The Best Hidden Gem – A Luxury Private Homes Hawaii Vacation Rental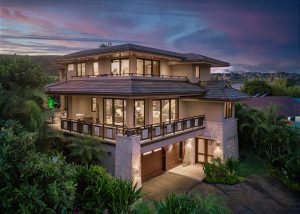 The best secret hideaway on Oahu and the Big Island is in a Private Homes Hawaii vacation rental. Our luxury homes are the perfect place to relax, with breathtaking views of the Pacific Ocean, relaxing private pools, and lush scenery surrounding many of them.
O'ahu 'Elepaio is the private getaway home you need. This gated house is perfect for unwinding after a day of Hawaiian adventures. When you're ready to take off the sunglasses or hiking boots, return to your vacation rental and unwind with a dip in the glowing private pool. Listen to the sounds of nature as the yard is surrounded by lush greenery. Then enjoy a night of the best rest and recharge your energy in a plush, king bed. You'll wake up refreshed and ready to take on another adventurous day in Hawaii!
Check our availability and reserve your dream vacation in Hawaii today!