The Most Epic Big Island Surfing Spots to Dive Into
Imagine paddling out on a freshly waxed surfboard on the clear, blue waters of the Pacific Ocean. You pop up onto your feet, feeling the salty breeze as you ride the wave smoothly to shore. Once you've tried it, there is no better feeling than surfing on the Big Island of Hawaii. This guide will help you get out on the water to experience that feeling in no time. Before you hang 10, make sure to request our complimentary Vacation Guide! You'll find the best restaurants, things to do, and sights to see on the Big Island of Hawaii!
Be Prepared by Checking the Surf Report
Hawaii is famous for its surfing but before diving in, you need to make sure you're prepared. Check the surfing conditions to see if the wind and swell are safe to surf in. You can also check the surf cameras to see how the waves look and how crowded the beach is before you head out.
Surfing Etiquette
Surfing is considered the "Sport of Kings," so make sure you are familiar with proper surf etiquette! The most important thing to know is that the person closest to the peak of the wave has the "right of way" to catch it. Keep this in mind and the local surfers will love you! Some beaches are better than others depending on your skills. Below, you'll learn the best beaches to catch the most epic waves that fit your experience level.
Beginner Surfing on the Big Island
Beginners and grommets (young surfers) will have the best time surfing on Kahaluu Bay in Keauhou. Whether this is your first time or your hundredth time on a board, you'll find just the right waves on Kahaluu Beach. There are plenty of surf rentals and surf lessons in the area to help you get started.
Another great spot for beginners is Pine Trees Beach, just north of the Kona Airport. This beach is a local secret so you can dodge the crowds that would likely be on Kahaluu. Surfing is phenomenal here all year round and the locals love this spot! You can rent a shortboard, longboard, funboard, or stand up paddle board from a nearby surf shop if you don't have one with you!
Advanced Surfing on the Big Island
Experienced surfers will have the thrill of their lives riding the waves ofBanyans on the western shore. Beginners might want to sit this one out, but this is the perfect place to watch and learn as the professionals take on a big kahuna.

Honolii in Hilo is another local favorite. This beach is located on the east side of the Big Island. Experienced surfers can expect to ride 3-to 5-foot waves at this location. The main things to look out for are the large, sharp rocks. Always keep an eye out for your surroundings and you'll have a killer surf trip!
Book Your Stay with Private Homes Hawaii on the Big Island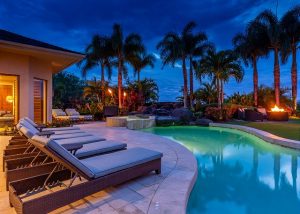 You've been catching waves all day, but now it's time to catch some Z's in one of our beautiful vacation rentals by the beach. Relax at Hualalai Anea Estates 101 on Kailua Kona. This five-bedroom dream home has an outdoor sunken wet bar, a fire pit, tiki torches, and a magnificent view of the ocean! Don't put your dream vacation off any longer!
Check our availability and book your Hawaiian getaway today!