3 Reasons Why You Should Plan a Long-Term Vacation in Hawaii
Why go on vacation for a week when you can go on a vacation for months at a time? Getaways can be beneficial for a multitude of reasons, and the Hawaiian Islands have so much in store for you, including new adventures, culture, and relaxation. If this sounds dreamy to you, you might want to consider going on a long-term vacation in Hawaii. Private Homes Hawaii offers long-term vacation rentals on Oahu and Big Island of Hawaii and Oahu.
You'll find a great selection of real estate near incredible experiences and attractions like national parks, stunning beaches like Waikiki Beach on Oahu, top-notch restaurants, and the most beautiful landmarks of Hawaii. We have ample amounts of local insight to share with you so that you can live like a local in Hawaii. After all, if you're living on the islands for several months, you'll have so much time to explore as many inches of the islands as possible! For more things to do during your long-term Hawaii vacation, unlock our complimentary Vacation Guide to Oahu and the Big Island.
Here Are 3 Reasons Why You Should Plan a Long-Term Vacation in Hawaii
1. You're Not Taking Advantage of Working Remotely
Are you working from home but in your actual home? If you work your job remotely, there's no better time than now to pick up and move for a short period of time. Work from vacation by living in Hawaii for six months.
Use your 9-5 time wisely and productively so that when it's time for happy hour, you can explore new island bars, or decompress after a long day with a little yoga on the beach, or get some fresh air by exploring adventurous hiking trails to towering waterfalls or the best volcanic views in Hawaii!
2. You Need to Experience Something New
Daily life can get repetitive after living in one spot for a long time. Mix things up, and experience life in a state that's totally different from your home state and what you're used to! The people, the scenery, the history, the traditions. It's a brand-new experience that can lead you to find out interesting things about the world, the country, and yourself that you never knew!
It's time to start checking things off of your bucket list!
3. You Need a Break
Are you in between jobs? Are you trying to figure out your next move in life? Take a break from all your hard work, and give yourself a six-month gap before starting your next chapter of life. It's a great way to gather your thoughts, relax, and have some well-deserved fun!
Explore the Best Long-Term Rentals in Hawaii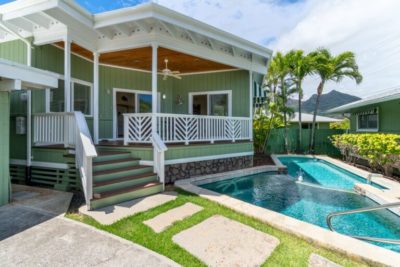 It's time to make the big move that can change your life and your perspective on the world! When you're ready to start planning a long trip to the Hawaiian Islands, browse through our selection of long-term rentals on Oahu and long-term rentals on the Big Island.
You're sure to find your dream vacation home with the best amenities in Hawaii. Hotel rooms can't compete with the breathtaking ocean views, gourmet kitchens, glowing private pools, lush tropical greenery, and close proximity to the best things to do in Hawaii that our vacation homes at Private Homes Hawaii have to offer.
If you're ready to hop on a flight for the adventure of a lifetime, check our availability and book your short stay or extended vacation to Hawaii today.