Your Guide to Kayaking on The Big Island of Hawaii
The Big Island of Hawaii is a wonderful place because there are so many cool outdoor activities to do on the water. If you're looking for the best adventures in paradise, you have so many options to choose from including kayaking tours, snorkeling tours, paddle boarding tours, and more! Go kayaking on The Big Island of Hawaii, and you'll discover mystical sea caves, playful spinner dolphins, daring manta rays, and curious sea turtles.
Before you come face to face with the most wonderful creatures of the sea, make sure to unlock our free Travel Guide. We've listed out everything you need to know before your trip, including the best restaurants, bars, outdoor recreation, and other attractions. Get the guide and start planning!
Where Can I Rent a Kayak on The Big Island of Hawaii?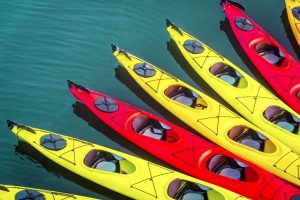 There's an array of choices when it comes to kayak rentals or any watersport rentals for that matter. Here are some great places to rent kayaks on The Big Island.
Ocean Safaris Kayaks
Ocean Safaris Kayaks on Kailua Kona offers three professionally guided tours. Two of them are kayaking tours, and those include the Keauhou Sea Cave Kayak Tour and the Kayak With Dolphins Big Island Tour. But no matter which tour you choose, you're sure to be awestruck by either stunning scenery or intrigued marine life!
Ehu and Kai Adventures
Ehu and Kai Adventures takes you to some of the most stunning destinations on their SUP, snorkel, kayak, and canoe tours. Venture out to Kealakekua Bay and then go snorkeling by the Captain Cook Monument. This spot has some of the best snorkeling in Hawaii, so you're sure to see some fascinating wildlife!
Kona Boys
Kona Boys is a water sports rental shop in Kealakekua. They offer guided kayak tours, canoe rides, and amazing experiences! You can learn all about the history and culture of Kealakekua Bay when you take their Morning Magic Kayak and Snorkel tour as the sun rises.
Have the Ultimate Rest After Exploring The Big Island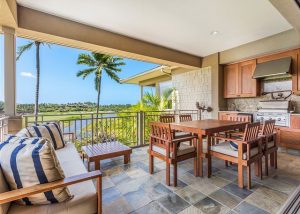 The ultimate rest comes after a day of exploration when you wind down in a luxury Private Homes Hawaii vacation rental. We offer upscale accommodations on both The Big Island and Oahu (which also has amazing kayaking experiences)
When it's time to put down the paddles and recharge before a new day, rest in a gorgeous rental like our Hualalai Resort – Waiulu 137D rental. This spacious island house features three bedrooms, 3.5 bathrooms, and incredible views of the Ke'Olu Golf Course and Punawai Pond. In addition to this home's amazing amenities, you can also venture to the Four Seasons Resort as you'll have access to many of their amenities! Including the sports club, golf course, beach, pool, and more. If you're ready for a relaxing, outdoor getaway in Hawaii, check our availability and start planning today!